Miss Wendy has helped my daughter, not only in the Hong Kong Speech Festival, where she won both times, but also from all the reading and writing materials for their different needs. Miss Wendy is trully amazing and very detailed in what needs to be done and be improved. I am grateful to have found Elite Kids Asia, it had helped us so much ❤️
- Len Capili
I came across Miss Wendy's webpage last year while researching for information about the Speech Festival and was totally intrigued by her method of teaching (mostly online), as well as how resourceful and comprehensive her page was. But at that point we had already signed up with another teacher. So this year I've decided to turn to Miss Wendy!
First of all let me just say how insightful and detail-oriented Miss Wendy is. My husband was truly impressed by her word by word instruction and the care she put in, for what we think as a short poem. The online communication is extremely effective, since we were able to go back to the comments whenever we like. We also love not having to travel to lessons!
I can already see the improvements that my daughter has made under Miss Wendy's guidance. Thank you Miss Wendy for your dedication!
- Carman Lam
This student was not a strong student and her teachers discouraged her. After working with me, she achieved fantastic results in the DSE.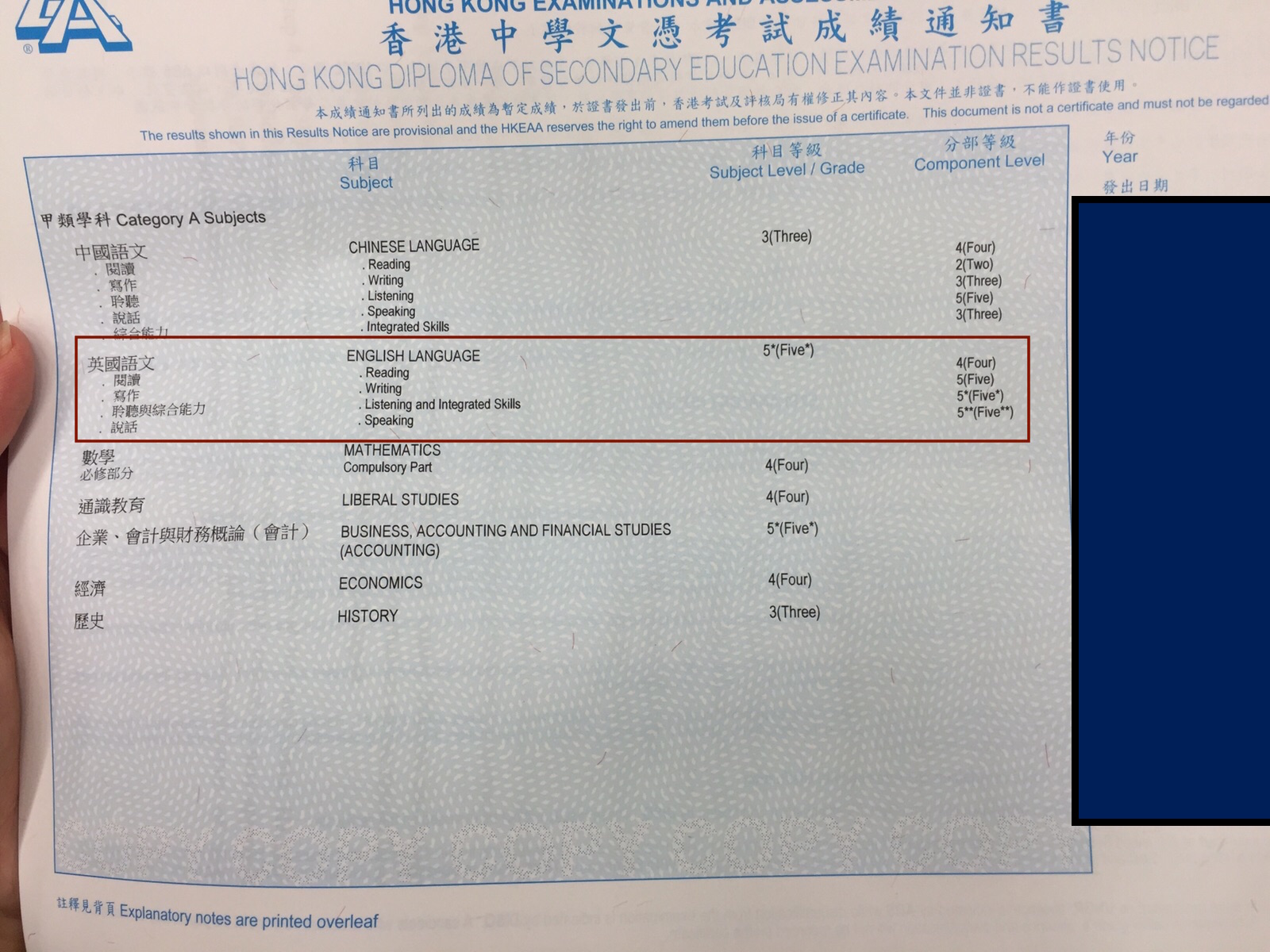 Message from my Student
(in Chinese)
Ms Wendy is a very good teacher online to provide e-learning to my son. We are more than appreciated to join her coaching programs of speech festival and writing compositions. It is much effective, convenient, practical and useful for my son to learn. As a typical busy parent in Hong Kong, I found learning from Ms Wendy can gain lots benefits and good results, it can save time which is important, as my son can practice at home by following Ms Wendy's coaching materials effectively, no need to take him to attend lessons, he feels more free and happy to practice, and has really got improvement even by short time of practices. Moreover, it is much cost effective and valuable !!! We love Ms Wendy as she shows heartfelt love and spents her entired efforts to her students. We have made a right choice ! Heartfelt thanks to Ms Wendy.
- Candy Yu
Mrs. Wendy Lau is an excellent Teacher in giving kids the right direction in the Speech Festival. Her ways of teaching has imbibed in the kids a sense of clear understanding of the poetry, the requirements expected out of them and the ability to perform well. It has been five years that they have been continuously been taught for the speech festival and I can see much improvement in their performance and confidence level over the years all Thanks to Mrs. Lau. Her way of teaching kids has been quite effective for the kids to really understand their mistakes and to improve themselves. Thank you so much for your help over these years!
- Haritha Kannaur Puthanmadhathil
This is definitely an excellent site for kids to explore the beauty of life. Wendy has such an enthusiasm to light up the path for our kids to suck the mellow of poetry. That's what we need to embrace the beauty of this world which, on the other hand, is full of hostility and hatred in reality.
- Edmond Ho
This is our third year learning with Ms Wendy. The eLearning material and eCoaching is very useful for the Speech Festival.
What moves me the most , is Ms Wendy 's love to her students. Her encouragement to my son is even more than mine to him.
Each time my child listens to Ms Wendy's comments, his eyes will brighten and wears a smile on his face, hearing Ms Wendy tells him where to improve.
He shows great improvements in speech and got his own "first" prize last year.
- Helen Kwok
Thank you, Ms Wendy!
Ms Wendy is an inspiring teacher. Her coaching is full of love and passion. Her advices and comments are just right to the point, on an encouraging way. We benefit from every feedback she gave throughout the preparation process. Great thanks, Ms Wendy!
- Joanne Kom
Ms Wendy is a wonderful, patient and lovely teacher. Her passion and encouragement helped my son to understand and appreciate the poems a lot! It's a door opening experience. Thank you for being such an amazing person and a true inspiration!
- Jackie Cheung
Wendy puts an enormous amount of passion and dedication into her work and, most importantly for anyone thinking of using her services, achieves results. With her dedication and expertise. Again and again, the children she assists score outstanding results.

- Danny Gittings
We have joined Ms. Wendy ecoaching since last year. She has helped my boy to gain confidence and learn how to perform a poem with understanding and feeling, and not merely reciting it. Thank you Wendy!
- Holly Tsoi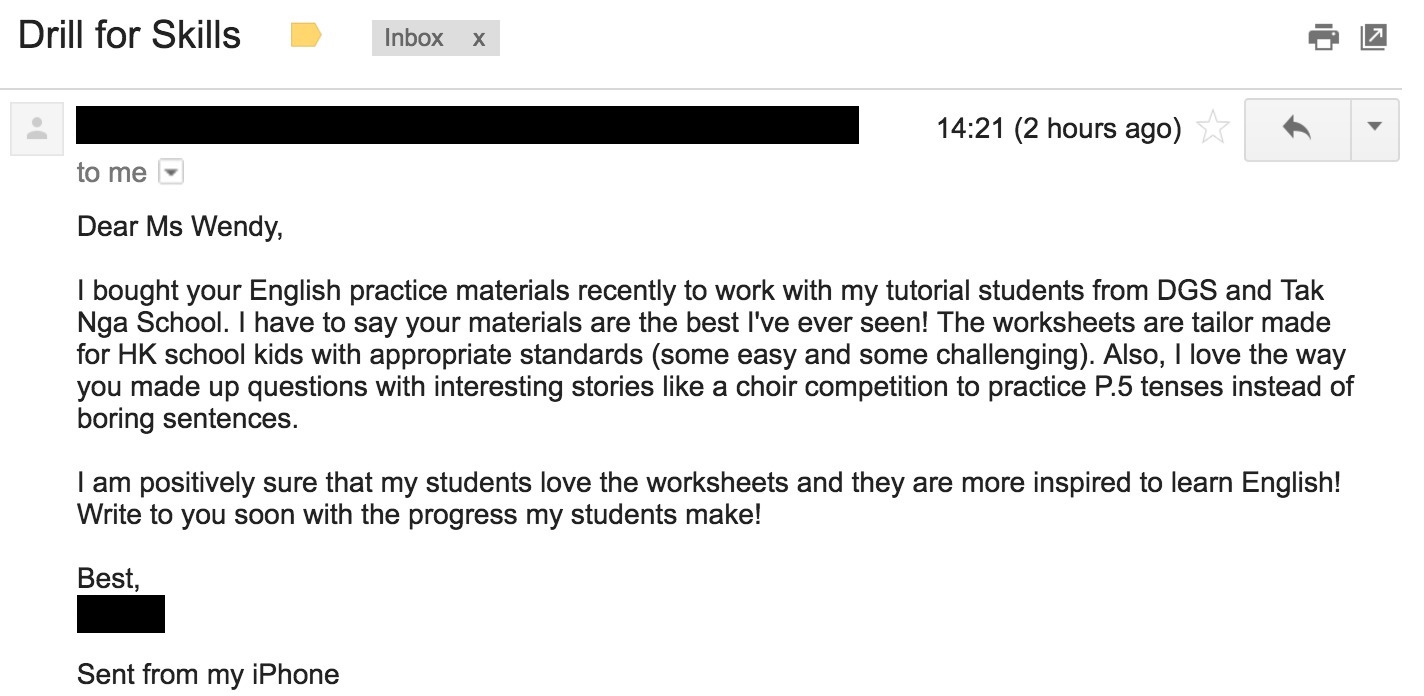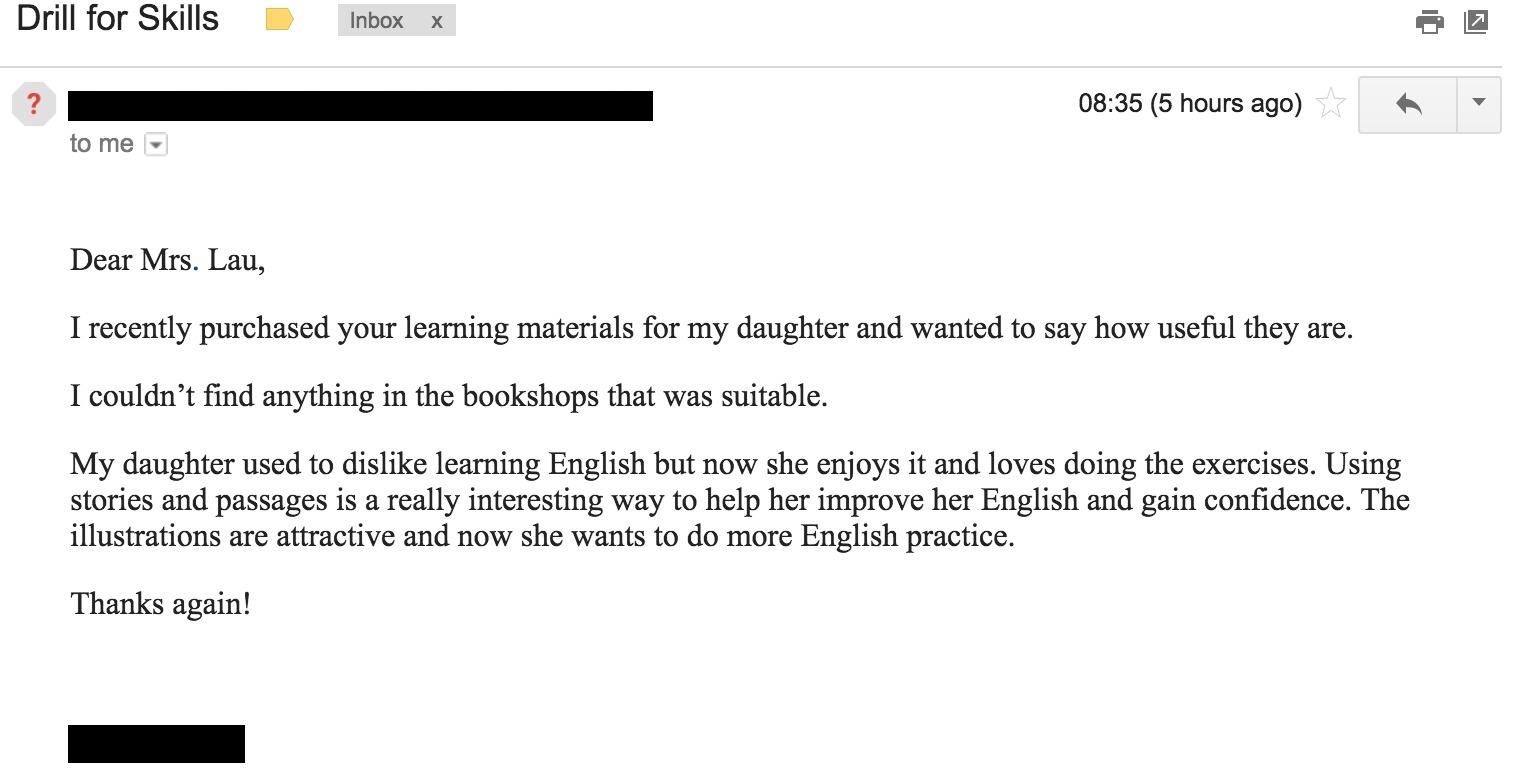 Ms Wendy is a top-notch English teacher with exceptional skills and sincere passion for helping young learners to progress and excel in their path of English learning. Her custom-designed Drills for Skills practices and e-coaching are highly effective means to help students improve grammar, reading and writing skills at their own pace. Both of my children, a secondary schooler and a primary schooler, have benefited a lot from using her materials over the years.
Ms Wendy is also a very talented and devoted speech/poetry recital trainer. She puts a lot of time and effort into developing excellent training materials for the Speech Festival and coaching students effectively through video feedback and whatsapp. These help students and their parents save time and cost too.
I am touched by her dedication to understanding the needs and strengths of each individual student so as to bring out the best in every one of them. She always stands by her students to inspire and support with her loving care.
- Alice Chui
My daughter is in Primary Six now. This is the fourth year to join the WhatsApp coaching with Ms Wendy. 

With Ms Wendy's teaching, my daughter enjoyed to recite poems and also have got the first and second place before. 

Besides of the speech festival, I found that Wendy's tailor-made learning materials are really useful. My daughter also joined the One-to-One Writing programme which made her writing technique improved a lot!

Wendy is not only has a strong passion on teaching, she is also a good mother and a person who is truly faith in God even though in the difficult times. I am so proud that my daughter is one of her students. 
Wendy, Thanks again!
- Sophie Chan
My daughter participated in the Speech Festival first time this year. We have joined Ms Wendy's e-coaching program. It is a convenient and effective way of learning as my daughter can review the coaching materials, demos and feedback at any time. The materials and demos are excellent which help students understand the poem and the technique. Ms Wendy gives details feedback to her students such as pronunciation, tones and facial expression. With Ms Wendy's guidance and encouragement, my daughter has great improvement in a short time and got a good mark and comments in the competition. I am very grateful to have found Elite Kids Asia!
- Ann Tong
Miss Wendy has helped my daughter to prepare for her speech festival materials for three years now. My daughter has learnt a lot from her virtual coaching and rehearsal in previous years. I can see my daughter's improvements after listening to Miss Wendy's recording of the piece, and her precise and detailed feedback was right to the point and helped my daughter to make necessary changes to make the performance better! It was a smart and easy way for kids to learn without having to commute to the Teacher. It will be my son's first time joining the speech festival this year, and I look forward to Miss Wendy's coaching! Thank you, Miss Wendy!

- Fiona Chung
Miss Wendy is an awesome teacher. I am so touched by her kindness, encouragement and advice. My daughters are so lucky to be her students.
My elder daughter has joined Miss Wendy's speech festival whatsapp coaching and English writing program since 2015. My younger daughter has joined since last year. Miss Wendy's speech material is very useful. My daughters can memories the poem easily after listening her recordings. They also got good understanding the poem after reading the clear guidelines.
Miss Wendy's whatsapp coaching is also very effective and convenient. My daughters and I really like her whatsapp coaching. They enjoy learning at home, they feel comfortable and happy. As a mum, I don't need to take them to attend the lesson. I personally also learned a lot through the coaching. And I knew my daughters learning process.In the coaching, Miss Wendy will explain the meaning of the poem clearly. She will also teach the pronunciation, intonation and facial expressions of the poem. She really knows what the adjudicator wants. If you follow her teachings, you will always get a very good result in the speech festival. I sincerely recommend to all parents and students.
- Kylie Lu
Wendy is best teacher especially in preparation for speech festival. The material is very useful, and guidance provided through WhatsApp coaching really helps my daughter a lot, she has made huge progress and great achievement after learning from Wendy.
- Sean Wooi
Teacher Wendy has been the coach of speech festival of my son for a number of years since he was primary three. The care and advice that Teacher Wendy has given to each student were truly valuable. My son has made a huge progress under Wendy's guidance and has won several prizes. I highly recommend Teacher Wendy to every student who wishes to excel in thieir speech delivery and confidence level.
- Ava Lam
各位家長:
我誠意向各位推薦一位資深的英語老師──Mrs. Wendy Lau。她從事教育工作已超過二十多年,亦是我兩個女兒的英文輔導老師。
我兩位女兒分別就讀瑪利諾修院學校及拔萃女書院。自幼便跟隨Mrs. Lau學習英文寫作、英國文學,至今已十多年。在她悉心的教導下,我女兒的英文水準尤見卓越。長女在去年第一屆中學文憑試(DSE)英文科考試取得5*的優良成績,另外,次女在英國文學科獲得A級的校內評級,成績令人鼓舞。
Mrs. Lau是一位外籍的英語老師。憑她的一顆愛心及其循循善誘下,我兩女兒皆獲益良多。無論在寫作的技巧、語文的運用及表達,她們都能充份掌握。Mrs. Lau 更會配合個別同學的水準及需要去制定教材,包括詞彙、文學著作的人物概括等,使同學們都能深入淺出地作分析及理解,在教學的範疇確能做到「因材施教」。
再者,Mrs. Lau在教授朗誦的技巧亦頗有心得,其演繹尤是出神入化。得到Mrs. Lau的正規指導下,我幼女兒在小學時期每年度的英文朗誦比賽都非冠即亞。Mrs. Lau 不但在音準、聲調上給予學生適當的指引,更講究神韻的表達。她會給學生講解詩中故事的背景,人物的情緒等等,讓他們都能融入角色,朗出韻味。
幸得Mrs. Lau的耐心教導,我兩女兒皆畢生受惠。長女去年已考進香港大學,幼女仍在跟隨Mrs. Lau學習,我衷心感謝她之餘,更期盼其他同學都能認識這位卓越的老師,誠意推介這位資深老師給各位家長、同學。 
English Translation
Dear parents:
I sincerely recommend an experienced English teacher, Mrs. Wendy Lau. She has been working in the education sector for more than 20 years, and she is the English tutor of my two daughters. 
My daughters study in Maryknoll Convent School and Dioscean Girl's School respectively. They have been learning English writing and English Literature from Mrs Lau since they were in lower primary for over 10 years till now. With her excellent teaching, my daughters' English levels are remarkably outstanding. My elder daughter got level 5* for English in her DSE last year. My younger daughter also got grade A for her English Literature, which is an encouraging result.
Mrs. Lau is an English native speaker. She is very patient with children and demonstrates all her kindness towards her students. With her patient guidance, my daughters benefit a lot. They gain knowledge on both writing and grammar. Mrs. Lau will also prepare tailor-made teaching materials in accordance to her students' abilities and needs, including vocabulary, literature character summary etc. In this way, students can understand more and can analysis the story clearly. Whatever standard the students are, she will teach them by heart.
Moreover, Mrs. Lau is really a brilliant speech teacher. With her guidance, my younger daughter got several champions and 1st runner ups in numerous speech festivals when she was in primary school. Mrs. Lau not only does very well in training students' pronunciation, word stress and intonation, but also gives a good demonstration on facial expressions and body lanugage. She will always explain to her students about the story background of the poem, as well as the characters' emotions, so that they can get better understanding to the poem and demonstrate lively in the speech.
Luckily, my daughters can benefit from the caring and teaching from Mrs. Lau. My elder daughter has been admitted into The University of Hong Kong since last year, and my younger daughter is still learning English from Mrs. Lau. I genuinely thank her, and I also hope that other students can share this excellent teaching. I highly recommend this good teacher to all parents and students.