Tips and Strategies for Performing well in the Hong Kong Speech Festival Solo Verse Speaking
The following advice shows what adjudicators are looking for based on my experience and what to do and not do during the competition.
Physical Presence and Body Actions
The adjudicator will assess eye contact, body language and posture.
Dos
Walk to the front confidently.
Stand up straight.
Look at the adjudicator and make eye contact. You may smile before you begin.
Use eye contact with the entire audience. Do not only focus on the adjudicator.  
Engage the audience so they can't take their eyes off you.
Relax and let your body move naturally with the words.
Above all – show that you are enjoying your poem and that you really feel it.
Don'ts
Avoid showing hesitation as you walk up to the front.
Never slouch or slump your shoulders.
Avoid unnatural actions.
Avoid nervous gestures.
Avoid looking up.
Avoid fidgeting.
Avoid looking at your classmates if they are in the audience. They may try to distract you or make you laugh 
Many parents ask:
Should my child do actions when reciting the poem?
My response:
Most adjudicators deduct marks for physical actions during recital.
The focus must be Voice tone and Facial Expression
However, there are a very few adjudicators who sometimes accept them.
I do no recommend anything that is unnatural.
I also find that local teachers tell students to do actions and I spend a lot of time telling the students to ignore this advice (which thankfully they do!).
The adjudicator will judge the quality of your voice and your articulation (pronunciation and intonation).
Dos
Ensure you use the appropriate volume.
Project your voice so the audience can hear but this does not mean yelling.
Use the correct pace. This means not speaking too fast or too slow.
Use the rhythm of the poem.
Pronounce the words clearly.
Pay special attention to word endings.
Don'ts
Never shout. This always results in deduction of marks.
Don't rush through the poem like a train.
Don't speak so slowly that the poem sounds unnatural.
Don't speak like a robot.
Don't use a sing-song voice unless it fits the poem.
Technical Skills and Accuracy
The adjudicator will judge technical aspects such as pauses and line breaks.
Dos
Ensure you know where the line breaks are.
Determine which line breaks need a pause.
Look carefully at the punctuation since it gives clues about the technical aspects.
Determine whether to pause between stanzas.
Ensure your pauses are the appropriate length.
Don'ts
Don't use unnecessary pauses.
Don't ignore punctuation.
Don't miss words out (it results in a small deduction of marks).
Don't miss word endings, especially plurals and past tense words.
The adjudicator needs to assess whether or not you truly understand the poem and the message that the poet is trying to convey.
Do's
Ensure you know the meaning of every single word in the poem.
Ensure you understand what the poet is trying to do.
Think about any messages the poet is trying to deliver to the reader.
Think about the mood of the poem (happy or sad) and show that you understand this through your voice.
Don'ts
Never try to recite a poem that you don't understand.
Speak like a robot – this shows the examiner that you don't understand the poem.
The adjudicator will judge your interpretation of the poem and how you narrate your poem. They will be looking for style and sincerity. The key point is conveying the meaning of the poem through oral performance rather than theatrical performance. The adjudicator is not looking for actors!
Dos
Ensure you know the poem by heart so you can recite it fluently.
Communicate the meaning of the poem through your voice.
Let the language (the words of the poem) tell the story and convey your interpretation.
Use natural body language – let the poem move you naturally.
Vary the pitch and tone of your voice in a natural way.
Convince the adjudicator of your sincerity.
Use your voice to reflect changes in mood.
Captivate the audience with your interpretation.
If you make a mistake or forget something, just continue.
Don'ts
Never overdramatize, be overenthusiastic or overstress words.
Never use unnatural gestures or physical actions.
Do not be insincere.
Do not use a monotone voice.
Do not 'act out' the poem. Remember you are telling the story, not acting it.
Never try to copy contestants who go before you. Have confidence in your own ability.
More tips about prose reading and speaking coming soon. I also hope to post some videos of winners. Check back for details.
---
Parent's Testimonial
"I am soooooo touched by the thoughtfulness and recognition that you bestowed upon Anthony. I have to say your love and dedication for students is unfathomable, and I can see God's grace in how you steer your students through their challenges, pursuits and most importantly, difficult times."
-Edna (Parent of 3 students)
My Philosophy
---
---
"Education is not about filling a bucket, but lighting a fire!"
- William Yeats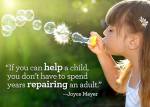 ---
---
---