Picture Composition Writing Skills
Many Hong Kong elite schools require students to write picture compositions during their English exams. With enough practice and guidance, ALL students can score high marks on these exercises in tests and exams.
My practice papers include PERSONAL MARKING BY ME with feedback for improvement. This way your child's progress can be monitored and I can identify weaknesses and help.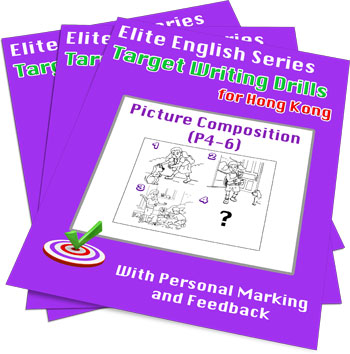 For more information click here.
Also available for P1-3 students.
Request information/free samples of this and/or other tailor-made e-materials together with ordering and payment details by e-mail.
**Please note that there is currently a short waiting list for this service**
---
Parent's Testimonial
"I am soooooo touched by the thoughtfulness and recognition that you bestowed upon Anthony. I have to say your love and dedication for students is unfathomable, and I can see God's grace in how you steer your students through their challenges, pursuits and most importantly, difficult times."
-Edna (Parent of 3 students)
My Philosophy
---
---
"Education is not about filling a bucket, but lighting a fire!"
- William Yeats
---
---
Follow me on Social Media!
ELITE KIDS
Facebook
Instagram
WORD-MAX
Facebook
Instagram
---